Double G RV Park
76 Double G Drive
McHenry
Maryland, 21541
(301) 387-5481
www.doublegrvpark.com
Double G RV Park is a campground or RV park located in McHenry.
Double G RV Park, play by day, relax by campfire at night, 1/2 mile from Deep Creek Lake.
The information displayed here is displayed 'as is', including address, photographs and telephone information. Please check the listed website ( if available ) for up-to-date information, prices and availability. Where to Camp America is not responsible for the content of external websites. If you are the owner or operator of Double G RV Park and wish to update or modify the content on this page including room details, specials and getaways or availability, please use our
submission page
.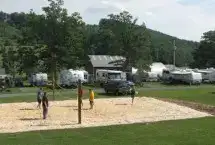 Location of Double G RV Park

Other info
Nearby restaurants include Red Run Lodge, Deep Creek Crab Co located at 200 Quarry Road, D C's Bar & Restaurant, Pine Lodge Steakhouse, and Lakeside Creamery.
Nearby accommodations include Glade Farms Campground located at 21058 North Preston HWY, Clutter Realty located at Rte. 2 approximately 13.0 km away, Microtel Inn & Suites, Deer Park Inn & Restaurant located at 65 Hotel Road, and Lake Pointe Inn Bed & Breakfast.