Featured Campgrounds
Located in the Sebago Lake region of southern Maine at the foothills of the White Mountains. Fishing and boating available at nearby ponds, lakes, rivers and streams. You can get almost anywhere in New England and still have your dinner fireside in your campsite. Our 20x40 inground pool offers both fun and relaxation for the whole family. WindSong Campground is family-owned and operated in Parsonsfield, ME. We are adjacent to Cornish Maine which is a delightful New England community With antique shops and several fine restaurants. We are off the north shore of Long Pond which offers boating fishing and also has a nice beach and picnic area.
Hiram Blake Camp is a family operation, owned and run by the children, grandchildren, and great-grandchildren of Captain Hiram Blake and his wife, Iantha, who founded the camp in 1916.
Mount Desert Campground is located in the heart of world famous Mount Desert Island. Just minutes from Bar Harbor and Acadia National Park. Spend your day sightseeing and shopping around the many local towns, rent a bike, sail on a schooner, go rock climbing in Acadia, or spend your afternoon at Sand Beach. Explore the extraordinary shopping and dining opportunities in Northeast Harbor or Southwest Harbor. You can even rent a kayak right here at the campground and explore the beautiful Somes Sound.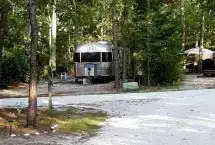 Here on 38 acres of naturally wooded campground, you will find 98 spacious 4 point campsites. Jersey Shore Haven is a quiet park with a warm and friendly atmosphere located just miles away from the uncrowded pleasures of the most beautiful and safest bathing beaches along the Atlantic coast.
Here at Fla-Net Park we offer a rustic camping experience. Our gravel roads lead you around the campground where you can relax by one of our spring-fed ponds, take out a paddle boat, or do some catch and release fishing.