Featured Campgrounds
Double G RV Park, play by day, relax by campfire at night, 1/2 mile from Deep Creek Lake.
Our Campground Store is fully stocked with all your camping needs from firewood, ice, snacks, drinks, and food to souvenirs, Duck Neck Campground t-shirts, bait, fishing gear, and a variety of camping supplies. We are famous for our Turkey Hill hand dipped ice cream with 16 flavors offered. The selection changes so be sure to check it often! Get your ice cream milkshake in your favorite flavor as well.
At Beaver Creek RV Campground in Jesup, Georgia, our family campgrounds offer RV amenities, areas for tent camping, hunting, and fishing. We open now and offer 21 RV hookups with 18 full hookups and 3 for water and electricity. Our spaces range from 25x30 to 40x60 Lots. We now have our sign up look out for thew beaver! Our trees offer cool shade and privacy we are 1-mile from the Altamaha river flows right into the Atlantic Ocean. We are near many federal hunting clubs with the nearest store about 6 miles away. From plenty of wildlife to our competitive prices, we are here for you. Contact us or visit our office on the right hand side on the way in for more information. Game room under construction.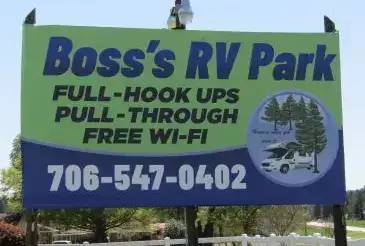 We offer a laundry room with plenty of washers and dryers, showers, and clean restrooms! Boss's RV park provides WIFI for your use, as well as a propane fill station. There are shade trees and a large Pavilion for your convenience, along with plenty of space to walk your fur babies while you are here.
Broad River Campground is located on the south bank of the Broad River, where it joins the Savannah River, on Clarks Hill - J. Strom Thurmond Lake – the largest Corps of Engineers lake east of the Mississippi River. This quiet, rural area is very historic, near the now-flooded town of Petersburg.