Featured Campgrounds
Are you looking for a unique way to celebrate a birthday, wedding, family reunion, company retreat, fathers day or anniversary? Need a quiet outdoor campground centrally located in the U.S. for any type of get together? Want to go someplace different for your anniversary or holiday weekend? Murphy Lakes is a safe place for bachelor-bachelorette parties where a group can get loud & crazy without bothering the neighbors or driving home afterwards and placing the public at risk. Perhaps you are a sportsman, seeking that ideal, out of the way fishing hole or hunting ground in Mid-Missouri. Maybe you just need a break, someplace to "get away from it all?" Murphy lakes hosts school picnics, graduation parties, church retreats, scouts, company picnics, and friends for get togethers. Murphy lakes is the perfect place for quality time with friends and family without the interruptions.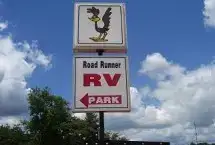 Welcome to West Plains located in South Central Missouri! Plan your next vacation to West Plains and stay at the Road Runner RV Park. The park is conveniently located on U.S. Hwy 63 and has 63 sites (including pull through sites and big rig sites)!

For more than 30 years Twin Rivers Landing has been a family owned and operated business. We strive to maintain a clean, fun, and Family-friendly Park for all our guests to enjoy! Our family-focused park includes river-front access, a large playground, a sand volleyball court, horseshoe courts, a softball field, and many other outdoor activities. Nightly hay-rides are available along with a Cowboy Church service on Saturday evenings between Memorial Day and Labor Day. Our fully-stocked Old Country Store will provide you with any items you might have forgot or the perfect souvenir to take back home.

Circle B Campground offers a wide variety of attractions and accommodations the whole family can enjoy. Located in the midst of the breathtaking Ozark National Scenic Riverways in the tiny town of Eminence Missouri, it's an ideal destination for a peaceful retreat or an outdoor adventure. Circle B Campground offers camping, cabins & lodging along the banks of the beautiful Jack's Fork River, one of the wildest and most scenic of all Missouri Ozark streams.

Relax and come on in. . make yourself at home and stay for awhile! . . Come to a place where you can get away and be treated to comfortable lodging, fine dining and fun recreational activities on the beautiful Black River in the Ozark Mountains. Take a break and enjoy a peaceful float trip in canoes, rafts, tubes or kayaks on the Black River. Come experience our slice of heaven . . we know you'll want to return again and again! We're only two hours from St. Louis and are looking forward to your visit to Wilderness Lodge, on the Black River in the Missouri Ozarks.