Autumn Hills Campground
285 South Stark Highway
Weare
New Hampshire, 03281
(603) 529-2425
www.autumnhillscampground.com/
Autumn Hills Campground is a campground or RV park located in Weare.
Welcome to Autumn Hills Campground. Nestled on a wooded hillside, Autumn Hills Campground offers spacious campsites for your RV, pop-up, or tent. We are conveniently located in south central NH near Concord, Manchester, museums, antique shops, parks, malls & amusements. Great fun for the whole family. relax by the fire, enjoy the facilities and activities, or visit the many nearby attractions.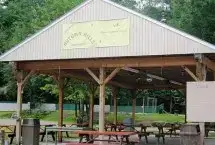 Location of Autumn Hills Campground

Other info
Nearby restaurants include Dathing Restaurant, Slammers Sports Bar & Grill, Marco's Mexican Taqueria located at 679 Mast Road, and Bull Moose Restaurant & Lounge.
Nearby accommodations include Cascade Park Camping Area located at 379 Route 106 South, Twin Oaks Campground, Little River Bed and Breakfast approximately 19.1 km away, Courtyard By Marriott located at 70 Constitution Avenue, and Courtyard By Marriott.