Golden Pines RV Resort & Campground
2869 East Highway 4
Murphys
California, 95247
(209) 795-2820
www.goldenpinesrvresort.com
Golden Pines RV Resort & Campground is a campground or RV park located in Murphys.
Shaded sites at 5000 foot elevation, rec hall, store, laundry, heated pool. Camping, rafting, whitewater kayaking, freshwater, boating, wildlife, vacation homes, family oriented, seniors welcome.
The information displayed here is displayed 'as is', including address, photographs and telephone information. Please check the listed website ( if available ) for up-to-date information, prices and availability. Where to Camp America is not responsible for the content of external websites. If you are the owner or operator of Golden Pines RV Resort & Campground and wish to update or modify the content on this page including room details, specials and getaways or availability, please use our
submission page
.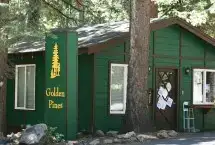 Other info
Nearby restaurants include Sun China, Far East Chinese Restaurant, Arnold Chinese Restaurant, Pablito's Of The Motherload, and Sarafinas Italian Kitchen located at 794 Highway 4 approximately 7.2 km away.
Other nearby accommodations options close to Golden Pines RV Resort & Campground include Travelodge By Wyndham Angels Camp Ca, Worldmark Angels Camp, 49er RV Ranch located at 23223 Italian Bar Road, PO Box 569 approximately 8.6 km away, Blue Nile Inn B&B, and Best Western Sonora Oaks.