Lake Shawnee Campground
3435 Southeast East Edge Road
Topeka
Kansas, 66605
(785) 267-1859
parks.snco.us/Facilities/Facility/Details/6
Lake Shawnee Campground is a campground or RV park located in Topeka.
Lake Shawnee is operated by Shawnee County Parks and Recreation. Parks and Recreation's purpose is to provide a wide range of recreational opportunities to the residents of Shawnee County and to the travelers from all across the United States. Lake Shawnee was built as a Work Progress Administration project. Construction began in 1935 and was completed on September 3, 1939, when over 5,000 fishermen celebrated the opening day. Over one million users annually enjoy the beauty and diversity of Lake Shawnee.
The information displayed here is displayed 'as is', including address, photographs and telephone information. Please check the listed website ( if available ) for up-to-date information, prices and availability. Where to Camp America is not responsible for the content of external websites. If you are the owner or operator of Lake Shawnee Campground and wish to update or modify the content on this page including room details, specials and getaways or availability, please use our
submission page
.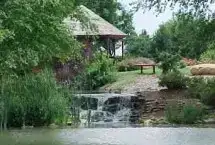 Location of Lake Shawnee Campground

Other info
Local dining options close to Lake Shawnee Campground include Sun's Chinese Restaurant, Great Wall Chinese Restaurant, Hunan Chinese Restaurant, Jade Garden Chinese Restaurant, and China Pavilion.
Nearby accommodations include Beaumont Hotel Sales Office located at 1960 North 7th Street, Chihowa Retreat Center Residence, Deer Creek Valley RV Park, Holiday Inn Express Hotel ( North ) approximately 6.5 km away, and Comfort Suites Topeka located at 6213 Southwest 10th Street approximately 8.2 km away.